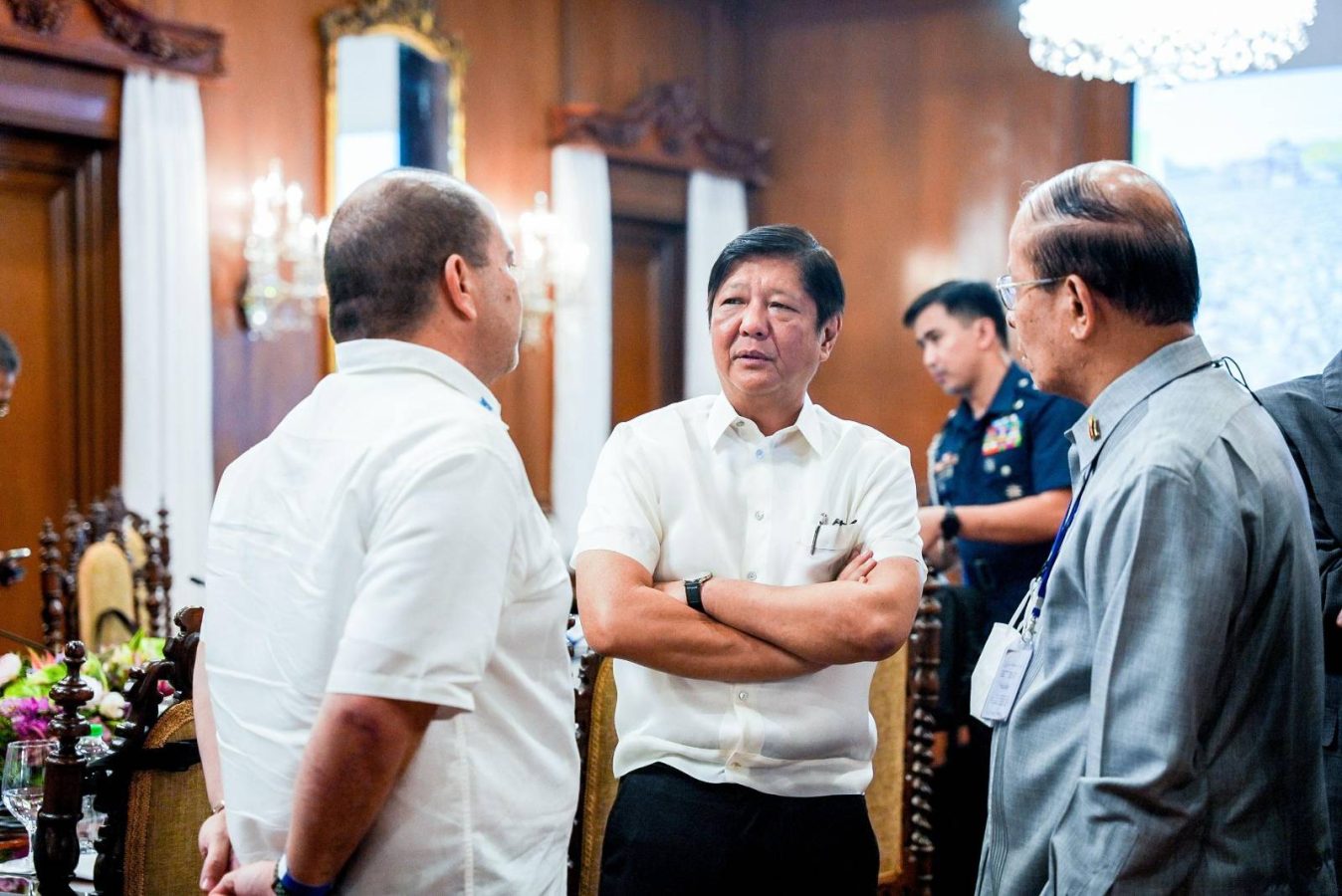 President Ferdinand R. Marcos Jr. said on Thursday that he is considering the recommendation of the Société Générale de Surveillance SA (SGS) to conduct pre-shipping inspections in a move to stop the smuggling of agricultural goods and ensure its safety for public consumption.
"This scheme would minimize smuggling. It will be essentially…pre-shipping inspection," Marcos said after meeting SGS Vice President George Bottomley and Managing Director Cresenciano Maramot in Malacañang.
"Ibig sabihin, bago pa isakay 'yung produkto sa barko doon sa pinanggagalingan, inspeksyunin na nila para sasabihin nila, 'totoo ito, tama ang timbang, tama ang quality, tama ang nasa record na pinanggalingan' — all of these items. Para hindi na natin kailangan gawin dito sa Pilipinas," he explained.
According to the President, they will extend to cover agricultural invoices so that prior to the arrival of the planes or ships, shipments are paid already, speeding up the process.
There is also the need to conduct cost analysis first to make sure that no added burden will be imposed on consumers.
According to the UN Commodity Trade data for the Philippines, some 20.48 percent discrepancy in the reported values of agricultural imports from 2010 to 2021 were found, resulting in revenue losses for the government. For edible vegetables, roots and tubers, the discrepancy was 34.74 percent while for swine meat (fresh, chilled or frozen), the discrepancy was at 41.89 percent.
On the other hand, conducting pre-shipment inspection (PSI) and conformity assessment procedures would ensure that the quantity and other specifications of the goods conform with sanitary and phytosanitary import permits and test the presence of diseases, among others.
SGS claims it would address smuggling and contain the spread of diseases such as African Swine Fever and Avian Flu, clarifying also that inspection and testing fees would be paid for by the exporter.
Under the arrangement, SGS will create a digital invoice in a standardized format prescribed by the authorities on an online government platform for registered or authenticated agricultural exporter/seller/supplier.
The invoices would be available in real time to the Department of Agriculture (DA), Bureau of Internal Revenue (BIR), and Bureau of Customs (BOC), which, according to SGS, would deter importers from manipulating or falsifying invoices and, instead, increase tax compliance, and enable cross-agency trade data reconciliation.
The system will likewise ensure that all agricultural importations are recorded and accounted for to prevent hoarding and price manipulation.
The costs of registration/authentication and operating the platform would also be paid for by the exporter.
The President has directed the DOF and the DA to study the proposal and come out with a mechanism to implement it.
SGS is a testing, inspection, and certification company established in 1878 with an aim of ensuring the quality and safety of products based on health, safety and regulatory standards.
The Swiss company has 2,650 offices and laboratories and employs 97,000 personnel in 140 countries.
The Philippines contracted the SGS from 1986 to 2000 for the verification of the quality, quantity, and price of imported goods prior to shipment to the Philippines.
SGS is currently working with the DOF on the fuel marking program. (PND)