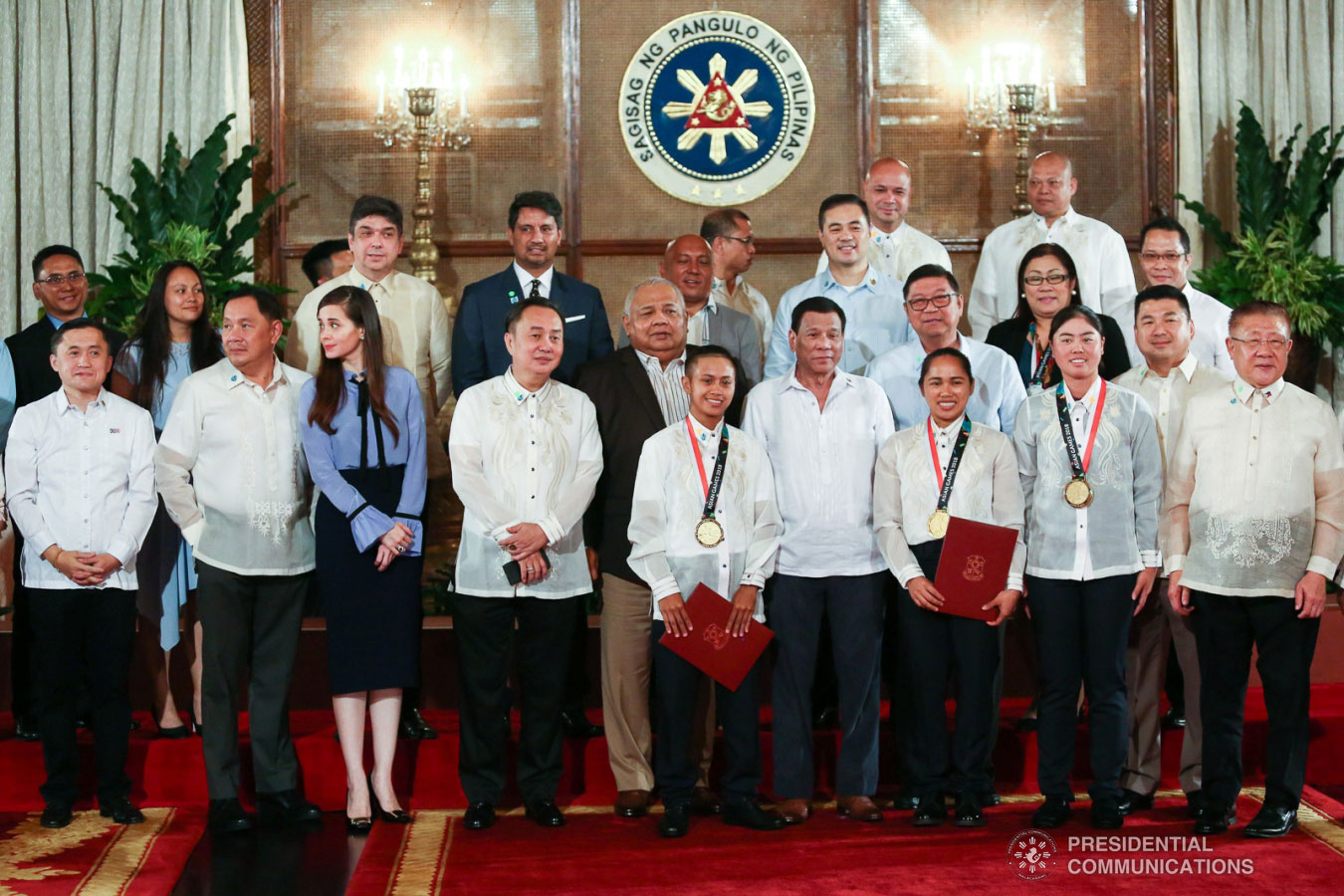 President Rodrigo Roa Duterte on Wednesday, September 12, led the awarding of incentives to Filipino athletes who won at the recently concluded 18th Asian Games held in Jakarta and Palembang, Indonesia.
President Duterte congratulated the athletes and their coaches for their efforts in bringing honor and recognition to the Philippines in the field of sports.
"We Filipinos have always been known for our competitive spirit, and this year, we did not fall short of showing our trait to our neighbors," Duterte said in his speech.
"I commend the Philippine Sports Commission (PSC) for supporting the athletes and for enabling them to perform well during the games. I have already directed the PSC to provide additional incentives, to be sourced from its funds, to the winning individuals of the 18th Asian Games," he added.
The Chief Executive said he is optimistic the additional incentives will further motivate the athletes and push them to excel in their chosen sports.
"It is my hope that this will not only further motivate our athletes to work harder, but also find resourcefulness, ways to maximize their potentials, and inspire the rest of the youth to be part of an active and healthy citizenry," he said.
"I have always believed that sports play a crucial role in fostering patriotism among us. The entire country looks forward to your next win as you secure your place in your respective fields and wave our flag, high and proud, for the world to see," he added.
All the medalists were also given presidential citations for their feats in the 18th Asian Games including Hidilyn Diaz, gold medalist for weightlifting competition; Margielyn Didal, gold medalist for skateboarding competition; Yuka Saso, double gold for Women's Individual Golf and the Women's Team Golf; Rogen Ladon, silver medalist for boxing; and Agatha Wong, bronze medalist for Wushu.
Present during the awarding ceremony were Executive Secretary Salvador Medialdea, Presidential Adviser for Sports Dennis Uy, Philippine Sports Commission officials led by Chairman William Ramirez, Philippine Olympic Commission officials led by President Victorico Vargas, Asian Games Chief de Mission Richard Gomez, and Philippine Ambassador to Indonesia Lee Hiong Tan Wee.
Meanwhile, Secretary Christopher Lawrence "Bong" Go of the Office of the Special Assistant to the President, who is a sports enthusiast and is instrumental in providing the athletes with additional cash incentives, revealed that the Office of the President gave additional cash bonus to all medalists. This, according to Secretary Go, is in addition to the incentives given by the PSC. ### PND